Competency-Based Mathematics Program: Instruction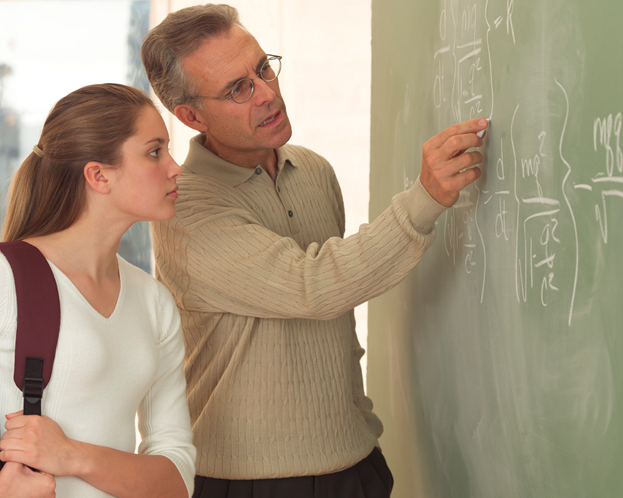 Students in the Competency-Based Mathematics program learn the course content by using the software they are provided for the course. If they are taking the course at a Model 1 school, students may also be taught course content during class by their high school math teacher. The math teachers at Model 1 schools are given the freedom to choose how they teach their high school class but all students in the program, in both Model 1 and Model 2, must complete all of the sections on the software that are required for each course and must complete the designated number of exams (3 for College Algebra; 2 for Plane Trigonometry) successfully.
The software's Instruct mode presents the concepts, definitions, and examples for each lesson similar to how a textbook would but, unlike a textbook, the software also has narration and videos.
The software's practice mode offers unlimited practice problems with helpful feedback and an Interactive Tutor that lets students view a fully worked-out solution or complete a guided step-by-step process in order to find the solution.
The software's certify mode is where students complete assigned homework problems. There is a table in the lower part of the screen that shows the number of problems, the number of strikes for incorrect answers, and the maximum number of strikes allowed to pass the certification.If a student earns too many strikes, they must reattempt the certify for that lesson. Students are allowed an unlimited number of attempts to certify. If the computer is connected to the Internet, the student will receive a notice that their certification has been registered and a grade will show up in their Progress Report. If the computer is not connected to the Internet, the student will need to submit the certificate manually on a computer that has Internet access. Students can also save and print the certificate for their records.
Course Content:
MATH 156 College Algebra
Test 1: Covers Hawkes sections 1.1a-b, 1.2a-d, 1.3, 1.5a-b, 1.6, 1.7a, 1.8a, 2.1 and 2.3
Topics Covered:
Real numbers (including integers, rational numbers, absolute values and interval notation)
Algebraic expressions
Integer Exponents (including properties of exponents and scientific notation)
Rational exponents
Polynomials (including simple factoring including difference of squares, sum and difference of cubes)
Linear equations in one variable (including absolute values, solving an expression for a particular variable and simple story problems)
Linear inequalities in one variable (including absolute values and simple story problems)
Quadratic equations in one variable (including solutions by factoring and the quadratic formula)
Rational expressions (including simplification and work-rate problems)
Cartesian coordinates (including plotting points and the distance and midpoint formulas)
Linear equations (including slopes, the slope-intercept form and the standard form)
Test 2: Covers Hawkes sections 3.1, 3.2a, 3.4, 3.5, 3.6, 3.7 and 4.1, which include:
Topics Covered:
Functions (including domains, ranges and graphs)
Linear and quadratic functions and their graphs.
Inverse and direct variation
Transformations of functions (including shifts, reflections, stretches and even and odd functions)
Combining functions (including addition subtraction and multiplication as well as composition and decomposition)
Inverses (definition and computing simple inverses)
Polynomial equations (including zeros and roots)
Test 3: Covers Hawkes sections 4.2, 4.4, 4.5a, 5.1, 5.2, 5.3 and 10.1, which include:
Topics Covered:
Polynomial division (including the division algorithm and remainder theorem, zeros and linear factors of polynomials and polynomial long division)
The Fundamental Theorem of Algebra (including constructing polynomials with given zeros)
Rational functions (including asymptotes and graphing)
Exponential functions (including graphing and exponential growth and decay problems)
Logarithmic functions (including graphing, properties of logarithms and common logarithmic functions such as noise levels and earthquake intensity)
Solving systems of equations with two equations and two unknowns.
MATH 157 Plane Trigonometry
Test 1: Covers Hawkes sections 6.1, 6.2, 6.3, 6.4, and 6.5, which include:
Topics Covered:
Radian and Degree Measure of Angles
Trigonometric Functions of Acute Angles
Trigonometric Functions of Any Angle
Graphs of Trigonometric Functions
Inverse Trigonometric Functions
Test 2: Covers Hawkes sections 7.1, 7.2, 7.3, 7.4, and 8.1a, which include:
Topics Covered:
Fundamental Identities and Their Uses
Sum and Difference Identities
Product-Sum Identities
Trigonometric Equations
The Law of Sines and the Law of Cosines