Sustainability and Environmental Studies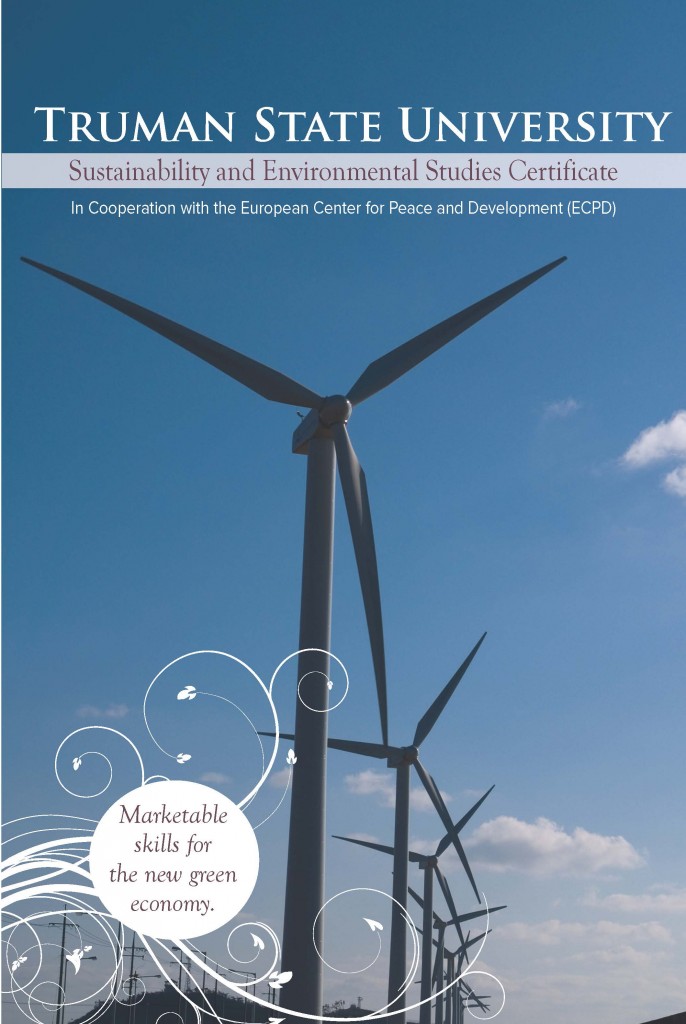 Not Currently Enrolling Students 
Interested in joining a future cohort?  Email us!
Do you want to be a part of the emerging green economy? Are you passionate about making our world a better place to live? Do you dream of bringing meaningful ideas about sustainable practices into your work and life?
Then the Sustainability and Environmental Studies Certificate may be right for you!
Courses in the Sustainability and Environmental Studies certificate are intended for those who want an improved knowledge of the relationship of the environment and environmental policies to their business or future career, those who seek work in developing or implementing environmental policies for business or government, or for those who possess a strong personal interest in global ecological relationships and how their roles as workers, consumers, leaders, and everyday citizens interact with our global commons.
Format
Courses are offered in an accelerated format.  For the 2015-2016 academic year we are introducing a format that will enable students to complete all four required courses in ten months.
The certificate contains two required courses and allows students to choose two additional electives from a list of offerings.
In Partnership with ECPD!

Truman State University has partnered with the European Center for Peace and Development (ECPD), a branch of the UN University for Peace, to offer this graduate certificate to students in the Balkans, and eventually to students in other regions in which they do work.  This partnership has resulted in a discounted tuition rate for students in the region and access to ECPD sites for collaboration and learning.
In practical terms, the ECPD provides points of contact in the Balkan countries where students can address concerns, meet with peers, and find out more information about course offerings.  This support adds to the already outstanding support students will be able to receive online through Truman State University.
Truman, as parts of its commitment to support ECPD-affiliated students, will send one of its program faculty to visit select ECPD-affiliated sites in Serbia, Croatia, and Slovenia (as enrollments warrant) to meet with students face-to-face, provide course-relevant lectures and discussions, and get feedback on student work.  Additionally, as these courses will be coordinated with students enrolled in the United States, live weekend conversations will be facilitated online, allowing students in multiple countries to share ideas in real time.
Why a Certificate?
A certificate is a great alternative to a full-fledged degree in environmental studies for those who could benefit from a greater understanding of the scientific, economic, policy, and regulatory environment of sustainability. It is ideally suited for those needing workplace skills who don't have the time or resources to pursue a full Master's degree program.
That said, the Certificate also constitutes one of several "tracks" in Truman's Master's Degree in Leadership.  Students wanting to pursue the Master's degree at a later date can use these courses to complete the elective requirement of the Leadership program.  That way, when they complete all of the coursework, they can say that they have BOTH a Masters degree AND a certificate specializing in sustainability.  While the program is currently offered only in the United States, Truman is currently working toward jointly implementing this Master's degree with ECPD for an audience in the Balkans.
Our coursework is well-timed to respond to government initiatives aimed at stimulating the development of "Green Industries" and encouraging appropriate workforce development in response to the state of the current economy.
Listen to a radio interview by our Director, Kevin Minch, about the advantages of Truman's graduate certificate programs.
Objectives
Students completing the Sustainability and Environmental Studies Certificate will:
grasp the fundamental scientific concepts that inform our understanding of sustainability;
explore the social conditions and motivations that frame the interaction of humans with their environment;
appreciate the policy framework and political environment in which environmental policy is enacted;
analyze and evaluate the economic motivations for developing sustainable practices and the consequences of adopting or not adopting them;
learn to apply their learning in practical contexts by developing an understanding of how sustainable practices can influence the bottom line and how doing business sustainably can have concrete, constructive impacts on their workplace, their company, and the local, national, and international economy.
Is This Program Right for Me?
The certificate is intended for practicing professionals in a range of fields – but primarily in business and industry – who want to augment their workplace leadership skills with knowledge of the emerging field of sustainability studies.  The certificate also serves to assist those students thinking about pursuing broader graduate coursework or research in environmental studies to ascertain the value of such a track.
The program is ideal for the student wanting to improve his or her career training who does not have the time or financial resources to enroll in a full degree program.
For students who are unsure about graduate school, the Sustainability and Environmental Studies Certificate provides a low-cost, convenient way to sample the graduate experience while preparing essential skills for graduate school.
Truman has introduced affordable rates to participants from Balkan countries, in cooperation with the European Center for Peace and Development.
Highly qualified Truman faculty and experienced practitioners offer the certificate courses entirely online while offering opportunities for real-time interaction online and in personal visits conducted by faculty in the Autumn and Spring.
The entire program can be completed in ten months!
Coursework
Coursework is offered entirely online.The program requires completion of four classes: two required courses and two elective courses selected from a prescribed list.
Required Coursework:
IDSM 520/520G  Sustainability:  From Science to Society [3 credit hours]
This course begins by investigating the scientific knowledge informing our sense of ecological challenges to sustainability, including climate change, loss of biological diversity and ecosystem services, and invasive species. Primary literature will provide most of the resources for this portion of the course. The course then proceeds to address responses to these challenges, from local grassroots efforts to international treaties. Here, various sources are relevant, addressing diverse endeavors ranging from the building of a seed savers network; to considering regional and national carbon trading schemes (and legislation/regulation); to international efforts to minimize species introductions, ozone-depleting atmospheric pollutants, and greenhouse gas emissions.
IDSM 521/521G  Applied Sustainability: Optimizing Value from Concept to the Boardroom to the Bottom-Line [3 credit hours]
This course will examine the practical application of implementing sustainability in business, real estate, and products; focused on minimizing total costs, maximizing total benefits, and optimizing true value and total return on investment. We will study best practices, lessons learned, barriers, opportunities, risk management, and rewards of implementing sustainability in an increasingly complex and dynamic legal and regulatory environment. Included will be exploration of topics such as socially responsible investing (SRI), environmental and social governance (ESG), the triple bottom-line, cradle to cradle, sustainable real estate development and sustainable community development, and sustainable facilities management. Examples of innovative business models and sustainable enterprise software tools will be touched upon as ways to enhance longer-term value, capitalize on opportunities, manage risks, and bridge the split incentive dilemma that sustainability often presents in the short-term.
Elective Coursework (Select Two of the Following – Offered in Rotation in Alternating Years):
POL 522/522G  The Politics of Sustainability [3 credit hours]
This course will study the politics and policies of environmental sustainability.  The focus will cover both domestic and international aspects of the issue, with a concentration on the role and actions of relevant institutions such as Congress, courts, bureaucracy, and international bodies; local and grassroots politics; social justice and sustainability; and the sustainability philosophies and perspectives of radical movements.
ECON 520/520G The Economics of Sustainability [3 credit hours]
This course examines the economics of the sustainable use of natural resources, and the consequences of failure to do so.  Topics covered will include: problems associated with optimal usage and management of common-pool resources; environmental regulation; the impact of government taxes and subsidies; environmental benefit estimation methods; cost-benefit analysis; sustainable agriculture; energy policy; transportation policy; and urban design.   The EXCEL spreadsheet program will be used to do cost-benefit analysis.  Prerequisites:  ECON 201 or Equivalent
ENVS 510/510G Managing the Commons [3 credit hours]
This course introduces students to approaches to managing commons resources, meaning both natural and man-made assets that are used and/or maintained by a community of users. Commons (systems of shared governance and responsibility) can and need to be adapted to successfully manage such shared resources. Examples of commons resources covered may include fisheries, forests, grazing lands, the atmosphere and other natural resources, as well as knowledge commons and tangible man-made assets.
GEOG 620 Environmental Geography [3 credit hours]
The purpose of this course is to convey to students a geographically based critique of current, socially and environmentally unsustainable interactions of humans with their natural environment, and of practical strategies to promote more sustainable economic development that addresses the concerns of diverse sectors of society and are adapted to the specificities of different places.
Important Links