PD 540/PD 540G – Directing Forensics:  Directing the High School Speech and Debate Program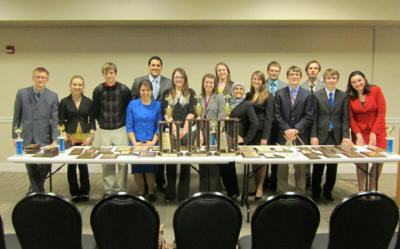 The Course
This course seeks to serve the needs of those secondary school educators and co-curricular advisers who have been assigned the responsibility of supervising an interscholastic speech and debate program at the middle school or high school level.  In this course students will explore basic topics related to the pedagogy of forensics, the management of forensics programs, and the professional issues associated with the role of a forensics coach/director.  Discussion of Theatre, mock trial, and related programs is included.
The Content
This 8-week, fully-online course includes content on a range of topics of interest to the new director, as well as new insights for directors with more experience.  For new directors who have plenty of competitive background, the course is designed to bring new insights into questions of philosophy, pedagogy, and organizational management.  Click here for a list of topics explored by the course.
The Advantages
The course has a number of features that should be attractive to new, as well as experienced, coaches and directors:
The course is fully online and asynchronous.  Students can log-on at their convenience to complete course content on a flexible schedule.
The course is eight-weeks long, offered during the summer.
The price is astoundingly affordable.  NFHS members pay the same discounted rate whether they are undergraduate or graduate students, in-state or out-of-state.  The result is discounts ranging from around $100 to as much as $900, depending on your state and degree level.
The course is rich in multimedia content, including interviews conducted with officials from NFHS, the National Forensic League, the Educational Theatre Association, select state association directors, and nationally respected coaches and forensics leaders.
Significant time is devoted to essential pedagogical concepts of forensics that can be applied to all activities, and used to justify program budgets and decisions.
Specific units are devoted to the essentials of instruction in debate, public address events, theatrical and interpretation events and activities, and related activities such as mock trial.
Entire modules of the course are devoted to important management topics such as legal liability, hotel contracts, parental relations, public relations, and tournament management.
The course is designed to link to existing resources from the NFL, NFHS, and EdTA so that new coaches and directors can learn both from the course, and from the organizations of which they will be a part.
There are no textbooks to buy.  Participants will have complete access to the reading materials they need online.
The Instructor
Dr. Kevin Minch, is a Professor of Communication, Director of the Truman Institute, and Dean of the Joseph Baldwin Academy, at Truman State University.  Prior to assuming his current role he was Truman's Director of Forensics for 10 years, leading a program that encompassed the full range of individual events and two genres of debate.  During his tenure students captured multiple national championships, and Truman was the only program to earn two national parliamentary debate championships on unanimous decisions.  He currently volunteers as a National Federation of State High School Associations College Advisor and serves as the NFHS Speech, Debate, and Theatre Consultant.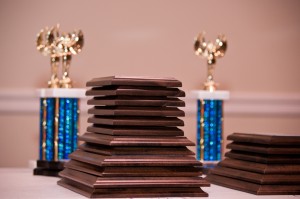 NFHS Discount
As part of a special agreement negotiated between Truman State University and the National Federation of State High School Associations (NFHS), NFHS members are eligible for a substantial discount on tuition for this course.  This agreement erases the distinction between undergraduate and graduate, as well as in-state and out-of-state enrollments.  All verified NFHS members pay a tuition rate of $230 per credit hour* ($690 for the course) plus a $20 online course fee.  By comparison, the current credit hour rate for an undergraduate, in-state student is $282.  In-state graduate students pay $316.50.  Out-of-state students pay $513.00 (undergraduate) and $543 (graduate).  For an out-of-state, graduate level student, the $25 NFHS membership fee translates to a $914 in savings!  Plus, there are no textbooks to buy!
Not currently an NFHS member?  Visit the NFHS's membership page to join or renew.  For more information on membership benefits of the NFHS Speech, Debate, and Theatre Association, click here.  Among other benefits, NFHS membership confers $1 million in excess liability coverage for coaches interacting with students.
*Note:  Currently-matriculated Truman State University students, regardless of NFHS membership, are not eligible for this discount.
Registration
Students not currently matriculated at Truman State University will need to register as a Non-Degree Seeking Student.  Students who are members of the NFHS Speech, Debate, and Theatre Association will be asked to provide a copy of their current membership card, their membership number, or their name and state as it would appear on the NFHS membership roster, so that we can verify eligibility.  Once the simple application is completed and reviewed, our staff will manually register students in the appropriate section of the course (based on undergraduate/graduate level and/or NFHS membership) and you will receive information on bill payment and how to log-on to the course.  To begin the process follow the link for Non-Degree Seeking Students above or contact Allison Owen at the Truman Institute at (660) 785-5384 or at institute@truman.edu. 
Advisory:  Each state has different laws applying to the ability of out-of-state providers to offer online courses within their borders.  Non-Missouri residents are encouraged to visit our state approvals site for more information as to how this might impact their registration and use of credit.
PD 540/PD 540G
Directing Forensics:  Directing the High School Speech and Debate Program
Content and Topics
Introduction to Forensics

The History and Evolution of Interscholastic Forensics
National Associations and Professional Development in Forensics
The Structure of Organized Forensics in the US and Abroad

Theoretical Pedagogy of Forensics

The Forensics as "Laboratory" Metaphor
Major Research in Forensics and Learning Outcomes
Forensics and the Gifted or Special Needs Student

Competitive Pedagogy of Forensics

The Relationship Between Competition and Classroom Pedagogy
Criticisms of Competition
The "Championship" vs. "Festival" Performance Models
Competition:  Winning and Losing

Teaching Research for Forensics Students

Teaching Ethics to Students Conducting Research
The Role of the Summer Institute in Research
Managing the Collaborative Dynamic in Team Research
National and State Rules Governing Research Products

Diversity Issues in Forensics

Trends in Participation by Gender
Issues in Participation for Students with Disabilities
Fostering Team Diversity
Protecting Against Threats From Inappropriate Behavior

Team Building and Organizational Leadership

Exercises to Promote Team Unity
Developing Team Leaders
Balancing Team Leadership and Managerial Concerns

Preparing Students for Debate Competition

Understanding Cross-Examination Debate
Understanding Lincoln-Douglas Debate
Understanding Public Forum Debate
Approaches to Student Research and Practice

Preparing Students for Public Speaking Competition

Understanding Extemporaneous Speaking
Understanding Impromptu Speaking
Understanding Persuasive Speaking/Oratory
Understanding Speeches to Entertain
Understanding Expository or Informative Speeches
Approaches to Student Research and Practice

Preparing Students for Oral Interpretation Competition

Understanding Literary Genres
Selecting Literature
Cutting Literature
Issues in Copyright and Performance Law
Scriptbooks, Blocking, and Costuming Rules

Preparing Students for Theatrical Contests

School Plays for the Inexperienced Theater Director

Preparing Students for Mock Trial and Student Congress Competitions

Understanding "Mock Trial" vs. "Moot Court"
Congress and Discussion Competitions
Approaches to Student Research and Practice

Preparing Students for Collegiate Forensics Experiences

Understanding the Differences Between High School and College Competition
Preparing Students for Tryouts and Scholarship Competitions
Recommendations
Academic and Competitive Priorities When Selecting a College

Public and Parental Relations

Promoting Program Success Within Your School
Promoting Program Success to the Local Media
Public Exhibitions and Performances
Communicating with Parents About Policies and Rules
Communicating in a Crisis

Law and Liability Issues

FERPA and Privacy Issues
Parental Permission
Safety Issues
Addressing Emergencies
Creating Boundaries

Managing Tournament Travel

Good Practices for Transportation
Good Practices for Overnight Stays
Good Practices for Student Conduct at Tournaments
Good Practices for Managing and Documenting Expenses

Organizing Tournaments

Developing the Invitation
Preparing the Site
Events
Tournament Post-Mortem