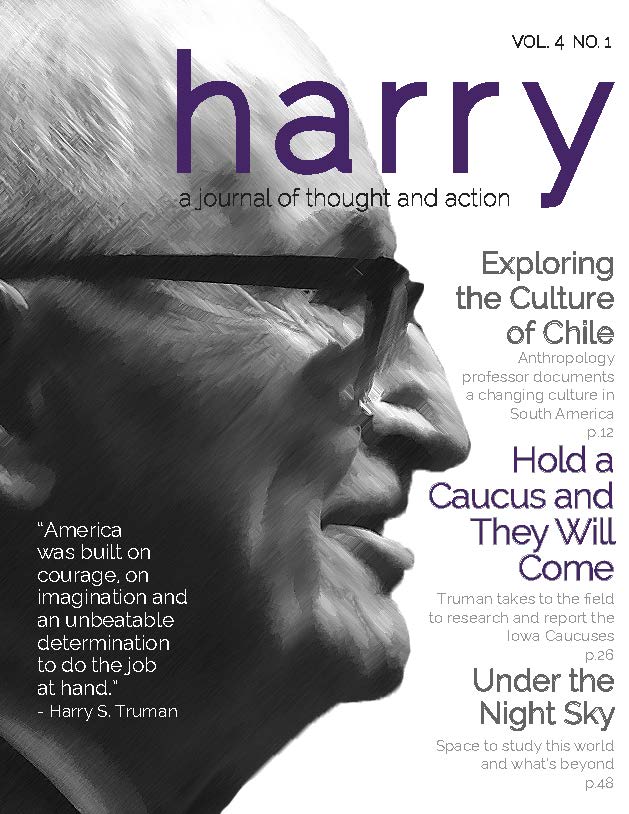 Dear Reader:
It is my pleasure to help inaugurate a new publication for Truman State University: Harry: A Journal of Thought and Action. Named for the University's namesake, Harry S. Truman, Harry aims to highlight the many kinds of innovative activities, creative endeavors, and cutting-edge ideas emerging from this vibrant community of higher learning. Our focus is on topics that should be of concern to everyone, but particularly topics that will be of interest to "thought leaders" in other fields: business, industry, government, education, and science.
Here, at a small liberal arts and sciences university in the rural Midwest, innovations are being made that will have an impact beyond our campus, and, hopefully, around the world. Harry itself is innovative in its commitment to engaged learning. The reporting is done entirely by Truman undergraduate students under the mentorship of Dr. Marilyn Yaquinto, a Pulitzer Prize-Winning journalist in her own right. Students in Truman's News Reporting and Magazine & Feature Writing courses learn to identify stories, interview subjects, do extensive background research, and develop stories that are often much longer than traditional newspaper articles. What's more, they have the added responsibility of developing multimedia content to accompany these stories — something our web-based journal can do far better than our traditional print venues. Many of these students are cutting their teeth with their very first stories while writing for Harry. As you'll see, for novice writers, they produce great results. More experienced students are also responsible for the cover art, the magazine layout, and the editing. Following in the tradition of award-winning publications The Index and Detours, we hope this first venture into totally online publishing will be an equal success.
A subscription to Harry is free. We encourage you to share this publication with friends and to encourage them to send us their e-mail addresses for inclusion in our mailing list. That list will not be used for any purpose other than this publication. Just point them toward https://institute.truman.edu/harry. If you like the ideas you see here, and want to know more about what Truman State University's faculty and programs can do in partnership with your business, school, organization, or employees, don't hesitate to contact our office. We would love to share with you the possibilities in spreading these ideas to even larger audiences. Enjoy!
Kevin M. Minch, PhD, Associate Provost
Harry Volume 4: Number 1
Harry Volume 3: Number 1
Harry Volume 2: Number 1
Harry Volume 1: Number 1